Enjoy soulful and classical entertainment throughout the evening with music by local award-winning pianist Ashlee Standish and singer Lindsay Misiner.
Our esteemed Emcee's Ruth Unrah and Brad Baker will infuse their vibrant energy into the evening and will ensure that the event program runs smoothly. 
Photographers Megan Muir and Tom Schmor will document the event as it unfolds and capture the energy and excitement of the evening.
---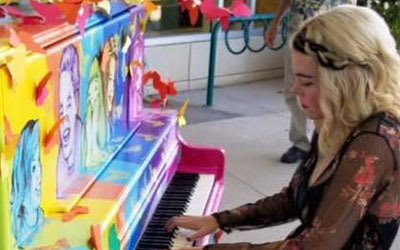 Ashlee Standish
Ashlee Standish is a multi-instrumentalist, a songwriter and a mother who continues on her path of writing and creating a sound using both her voice and keys. A classically trained pianist with a haunting and dark sound, in May 2018 Ashlee released her first solo album, Alchemy.
With four Niagara Music Award nominations in 2018, it had been a very productive and an accelerative year for her. Ashley was nominated Original Song and Songwriter of the Year and she took home an award in the category of Instrumental of the Year for her song "Deadly Night Shade". The awarded song features piano and cello performed by the songstress and accompanied by, notable Canadian tour veteran, Phil Bosely on percussion.
Ashlee's first solo work proves to be an expression of her passion, ingenuity and emotional depth; transforming her pain of loss and heartache into a musical composition. It's in the moments of contemplation and self-reflection that her music is most poignant; a transformation of pain to gold.
Along with playing local festivals including Livestock Niagara and Carmel Fine Arts & Music Festival, Ashlee is now on the hunt for far-reaching horizons and listening audiences across Canada.
Ashlee currently resides in Niagara with her son.
No doubt in 2019 Ashlee will prove she is an artist to watch out for.
Click here to visit her website.
---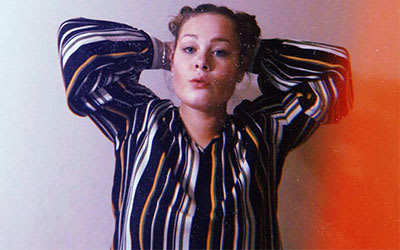 Lindsay Misiner
With a roaring voice of haunting passion and songwriting skills far beyond her years and time, Lindsay Misiner will leave you questioning how such an intricate talent could get inside the body of a young, long haired, Nova Scotian Woman. As an artist, she stands on her own as a glorified soul creation of the past, present, and future.
Misiner came in quickly with her 9 Piece, self-titled Psychedelic Soul Band Lindsay Misiner & The 7th Mystic in 2015, and for two years they made a mark on the City of Halifax. Misiner credits the band for being a driving force in her life, she says "Without them, I would never be the strong artist and Woman that I am today."
Upon arrival to Ontario, she became a part of the 2017 Honey Jam Showcase. Honey Jam allowed Lindsay to network with people in the industry and expand her knowledge & contacts in a city much larger than Halifax.
Misiner is currently in the works of putting together her debut EP. Stay tuned to her blog for updates. Lindsay is a natural born Soul Goddess with a message to share with the entire world. She invites you along for the ride.
---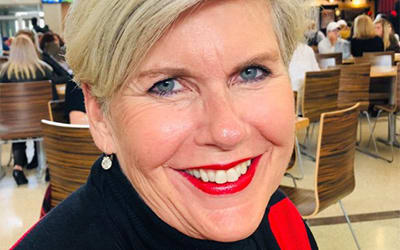 Ruth Unrau
Ruth is a Leadership Development Coach, an accomplished public speaker, and event emcee working with entrepreneurs, emerging leaders, and community organizations. Ruth takes a practical and constructive approach to individual coaching and leadership development and works with her clients to build a solid foundation based on strengths and values to build their confidence and increase their success.
An experienced and in-demand emcee, Ruth consistently works with several high-profile Niagara based events. She is an active volunteer and believes that strong communities are built by individuals who express their ideas, get involved and take action. Ruth is the co-founder and past chair of Women in Niagara is a current Board Director for the Pathstone Foundation and the Greater Niagara Chamber of Commerce and a member of the Niagara Women in Politics as well as the Niagara Leadership Summit for Women committees.
Additionally, Ruth appears as a regular guest on 610 Talk Radio, and made her acting debut in the 2017 performance of the Vagina Monologues at the First Ontario Performing Arts Centre in St. Catharines
Click here to visit Ruth Unrah's website.
---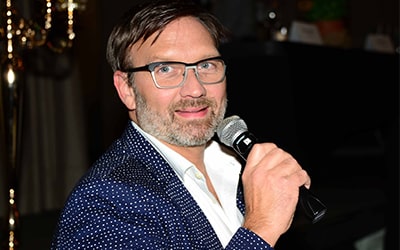 Brad Baker
Brad is the entertaining and lively man at the forefront of Empty Bowls. We have been fortunate to have him as our returning emcee at our annual fundraiser for many years. With Brad, you know it will be a brilliant and vibrant evening.
Brad Baker is the man behind the flowers. With a true passion for floral design and event planning Brad is dedicated to creating an overall experience, paying careful attention to detail and managing every last element of a project. An Honours graduate of Canadian Institute of Floral Design, Brad has worked at many galas and events building an incredible portfolio while doing what he loves most. He also has Wedding Planner certification from the Wedding Planners Institute of Canada.
Click here to visit the BBBlooms website.
---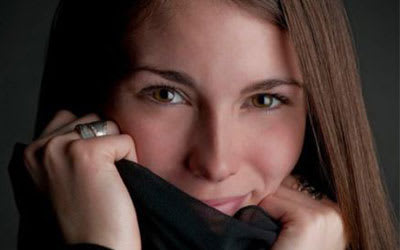 Megan Muir
Megan Muir is the eyes of Muir Image Photography. Professional photography for weddings, couples & engagements, lifestyle & family, portraits, events and real estate.
There is nothing Megan enjoys more than connecting with people and capturing true moments of laughter and love. With her knowledge of light, composition and posing she will guide you to natural moments, allowing things to unfold and show your true self. Her hope is that when you see your images you are reminded of the beautiful thoughts or the love you were feeling. Not forcing a smile. No matter the size of your family or the ages of your beautiful children she wants to find out what is special to you and capture those cherished family memories.
Click here to visit her website.
Make a Difference.

 Donate online, by mail or by phone.