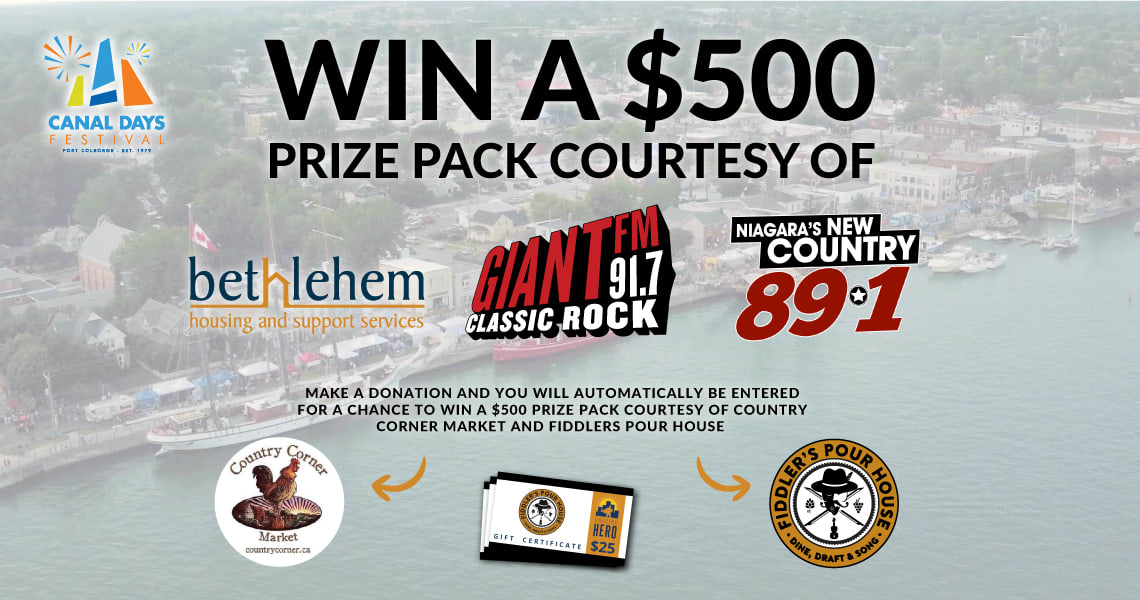 CONTEST RULES AND REGULATIONS
GOVERNING CANAL DAYS CONTEST
---
1. Details of the contest/promotion will be given online. No further disclosure is required by the Bethlehem Housing and Support Services.

2. Chances/odds of winning are dependent upon the quantity of donations received/entrants.

3. Only ONE Family Member per household is eligible for each given prize.

4. Contestants can only win once per campaign contest period (Commences August 4, 2023 12:00AM EST and ends August 8, 2023 11:59PM EST). Winner chosen and contacted August 10, 2023.

5. Bethlehem Housing and Support Services reserves the right to change the details of this promotion when rules and regulations are changed beyond Bethlehem Housing and Support Service's control.

6. In the event of any dispute regarding any contest or promotion, Bethlehem Housing and Support Services will be the final arbitrator and their decisions are binding as final.

7. Open to residents of Ontario, Canada only. (Not open to US residents)

8. You must be 18 years of age or older. (Must show proof of age and residence)

9. Prizes will be accepted as awarded with no cash or exchange value.

10. By participating in this contest all participants acknowledge that Bethlehem Housing and Support Services has the right to reproduce, publicize his/her name, likeness and that he/she won this contest and all matters incidental thereto without notice or compensation.

11. No employee or board member of Bethlehem Housing and Support Services or their family or any participating contest sponsors or persons they are domiciled with and their family are eligible for this contest.

12. None of Bethlehem Housing and Support Services or any company related to it including sponsors, or any director, officer, employee, servant or agent of any of them shall have any liability whatsoever, arising out of the contest or the awarding or ownership of the prize, including without limitations to, the failure of the prize to conform to the descriptions thereof, or loss of/or damage to property or to anyone arising of the ownership and use of the prizes.

13. By Participating in any Bethlehem Housing and Support Services contest or promotion, participants and entrants agree to be bound by these rules and regulations.

14. By submitting your information into the form used to enter the contest/draw it is understood that you are willing to receive occasional promotional and e-mail offers/alerts from Bethlehem Housing and Support Services and participating sponsors/partners.

15. Contestants have up to 30 days from the date they were informed they won a prize to pickup that prize.
16. Contestants MUST reply (email) or return our call within 7 days of being informed they won otherwise a new, randomly drawn backup winner will be chosen in their place.

17. There will be 1 prize valued at $500.
Make a Difference.

 Donate online, by mail or by phone.