On Wednesday October 18, 2023, in the Event Court at The Pen Centre – St.Catharines, Bethlehem Housing and Support Services will be hosting the 1st Annual Country Harvest Soup Fest fundraiser fueled by Empty Bowls and presented by Essentials Cremation And Burial Services Inc. This event is a companion to our Annual Empty Bowls fundraiser in March and does not replace it, this is an opportunity to attend a similar event during the day and in the Fall. This is a lunch event that takes place between 11:30am-2:30pm.

During this lunchtime event, guests will enjoy samples of gourmet soups prepared by Niagara's finest chefs and fresh artisan breads to complement this culinary experience. Proceeds from this fundraiser go toward helping individuals and families who are homeless or at risk of becoming homeless due to issues with poverty, physical disability, mental health, domestic violence and family breakdown.

Our programs and services are solutions-focused to break the cycle of homelessness and help our families across the Niagara region, gain the confidence, skills, and health to remain securely housed.

If you'd like to participate as a vendor (spots are limited) or sponsor this event, please contact: emptybowls@bethlehemhousing.ca
A HUGE thank you to our TITLE sponsor Essentials Cremation and Burial Services Inc., our GOLD sponsor Country 89 (who will also be on-location spinning tunes for us at the event!), our SILVER sponsors FirstOntario Credit Union, Sherry Campbell Group, BRONZE sponsors Jordan Versluis, 91.7 Giant FM, ProActive Chiropractic, Flett Beccario LLP, Boston Pizza, Cooper Wealth Management of RBC Dominion Securities, Muir Image Photography and last but certainly not least, our FRIEND donors which include Circle P Paving, Jamie Janzen Plumbing and Heating, Bosak Wealth Management of RBC Dominion Securities, Centennial Construction, Niagara Regional Police Association, Niagara College, Alpine Nursery, Cogeco YourTV and Jim & Margaret Agnew.
We also want to thank and announce our soup and food vendor for the event - Doc Magilligan's (Serving Buffalo Chicken Chowder & Irish Soda Bread), Fiddler's Pour House (Serving Roasted Butternut Squash soup with toasted pumpkin seeds and creme fraiche with a Garlic Knot or Crostini), Food Day Canada (Bumper Crop Tomato Soup with Cheese Crisps), Kully's Original Sports Bar (Serving Chicken Pot Pie Soup & Homemade Butter Biscuits), PigOut Catering (Serving Potatoe Leek Soup with bacon sippets to add for the meat eaters & Crackers), Zehrs Pen Centre will be generously providing Ace Bakery buns and assorted beverages for the event.

---

We would like to thank the community for supporting United Way Niagara - they are our funding partner in programming.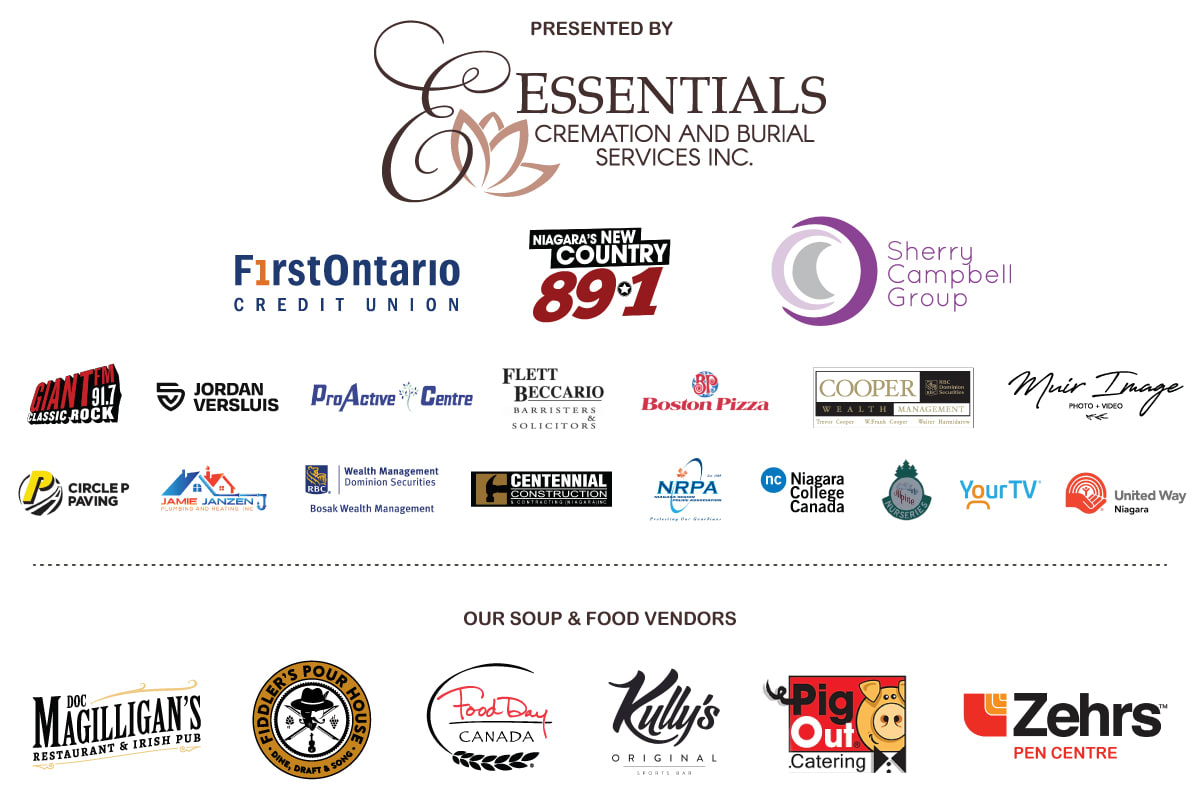 Make a Difference.

 Donate online, by mail or by phone.