Our EarlyON Centre's playground at Bethlehem Place will soon be receiving a complete makeover.  It's been over 25 years since our playground was installed and has had some maintenance over the years, but this initiative will be a total renovation and expansion.
Bethlehem Place is one of five sites within Niagara that will be part of the Naturalized Playground Initiative though the Early Childhood Community Development Centre (ECCDC).  The first phase involves a topographic design by Bienenstock a leading Canadian design company that specializes in natural playgrounds.
Watch the video on CTV Canada AM about Bienenstock's natural playgrounds.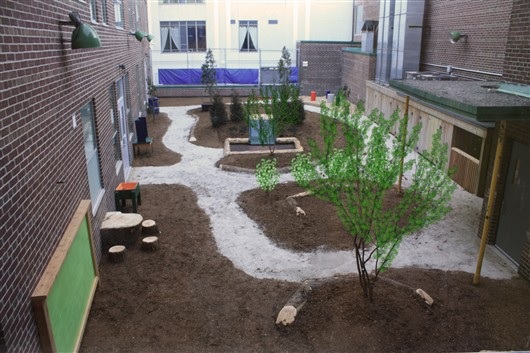 Research has shown that natural playgrounds are beneficial for children, our communities and our environment.    A naturalized playground is a "playscape" designed to reconnect children with nature allowing them to experience a sense of curiosity and wonder.  Fallen logs, tree stumps for seating, vertical logs for forts, slides embedded in the side of hills are all part of the safe natural playground.
Many of you know that our Bethlehem EarlyON Centre is in the downtown core, limiting our program for children to engage with nature.  Having a naturalized playground will provide children with opportunities that will benefit their physical development and emotional wellbeing.
Our Early Learning Centres are free to parents with children in the community, if you're interested in learning more please visit our Early Learning Centres.
For more information on the benefits of naturalized playgrounds for children, visit http://www.naturalplaygrounds.ca/making-the-case.