Donn Zver, from Millgrove Ontario, started his pottery design journey in 1967 when he entered Sheridan College of School of Design.
---
In 1972, Donn opened up his own studio in Troy, Ontario, crafting a distinctive line of functional stoneware pottery. His work is included in many public and private collections, and he has become one of Hamilton's best-known artists.
His mugs, dinnerware, vases and casserole dishes are used in many homes in Ontario and far beyond. In the time honored traditions of the Artisan, Donn is committed to nurturing apprentices. They stay with him for three to six years before spreading their wings. "It's more important now that Colleges are cutting back on the Arts in favor of technology." Donn's passion for art and pottery now has him greeting more than 25,000 people a year at his studio.
Click here to visit Donn Zver Pottery's website.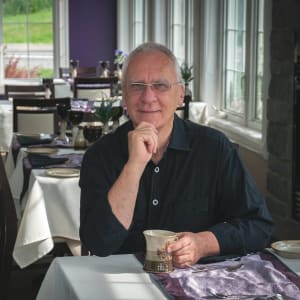 I love the tactile quality of clay. The greatest enjoyment comes when I realize that someone else enjoys my work enough to include it in their lives and homes
---
Send Donn an Email
Make a Difference.

 Donate online, by mail or by phone.