Unha Hill has been a professional ceramic artist in Hamilton since 2004. Her goal as an artist is simple: to make items that are functional, absolutely beautiful, and a part of every day life.
---
Unha's relationship with clay began in 2000 when she took her first class at the Hamilton Canadian Japanese Cultural center. Early on, Unha took many classes and workshops where she learned not only the basics of running a production ceramic studio, but given a window into a world where people supported themselves making their art.

 Now, Unha has made the leap into working as a full-time ceramic artist, and continues to challenge herself to learn more, and to meet the peculiar demands of being a full-time artist in the world. Her long-time background as a floral artist is a major influence both in the form of many of her creations, as well as in their design. Unha works with both intensity and meticulousness attempting to turn clay into a unique object of beauty. So her work is not static but like nature, itself, full of experiments.
Click here to visit the Pottery by Unha website.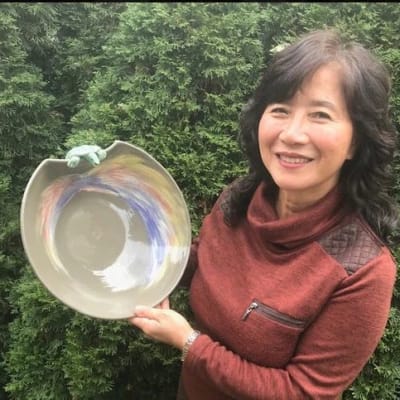 My pottery is about the elements of nature that I love. These have become the shapes, textures and colours of my pottery.
---
Send Unha an Email
Make a Difference.

 Donate online, by mail or by phone.